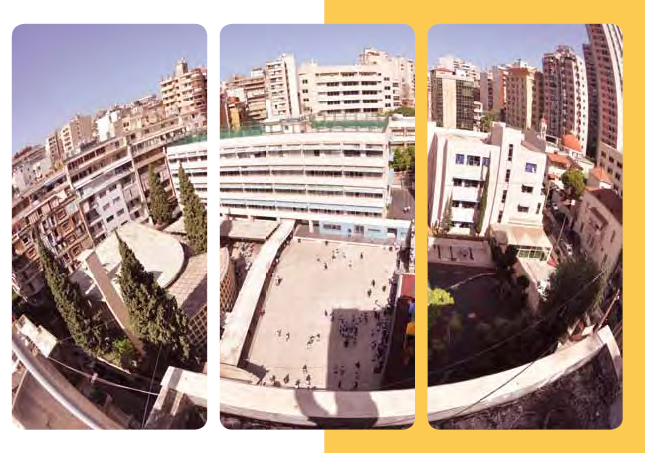 Nestled between residential high-rises in one of the most populous districts of Beirut, the Beirut Baptist School is not readily noticed. Many pass by the tall wrote-iron fence that hems in its modest campus, without recognizing that inside is a most extraordinary school. There is hardly a residential building in all the streets surrounding or leading to the school that does not count a current or a former BBS student among its residents.
Since its founding in 1954, the BBS has earned the acceptance of the community by quietly and lovingly lighting little fires of hope into the heart of each student and every home. The school has been described as a beacon of knowledge, a lighthouse of truth, a citadel of faith, and an oasis of tolerance and understanding. But the metaphor that is most endearing and that most closely describes the heart and aspirations of this remarkable institution is that of the biblical city on a hill. The image of a cluster of hill-top houses silhouetted against a dark night sky, with flickering lights emanating from every window, is uniquely comforting and intensely evocative. The city Jesus described was not a sky-scraping bustling metropolis but a serene community of lights. The BBS might seem to be cowering in the shadows of a sprawling metropolis, but it is also a City on a Hill. BBS is an oasis of tolerance and understanding. Lives are being touched through a unique opportunity to plant the seed, water it and watch God grow it in the hearts and minds of KG to Grade 12 students from diverse backgrounds.
The Beirut Baptist School is one of the prominent private schools in Beirut. BBS received accreditation in 2010 as a Quality School by the North Central Association Commission on Accreditation and School Improvement (NCA CASI) - an accreditation division of AdvancED. The school was also commended for "providing Christian values in a Muslim community while respecting the dignity of each religion".
With its student body of over 1,300 this Nursery to Grade 12 school pursues a mission to prepare the students in mind, body, and spirit to meet the challenges of the world around them. Indeed, BBS today continues to share the spiritual concerns of its founders and their mission to promote love of God and country, and to liberate the mind and soul from the bondage of ignorance and fear. Hence its motto: The Truth will set you free.
Visit BBS website: www.bbs.edu.lb