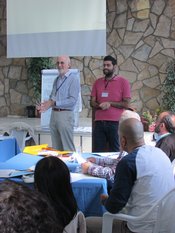 TearFund Training for LSESD partners serving in Syria


As LSESD and its implementing partners have struggled to respond to the critical needs of both the internally displaced within Syria and Syrian refugees in Lebanon, one of the challenges has been to provide adequate training and support for those who are serving in the field. Over the past two years, LSESD partners have been responsible for the assistance of over 25,000 individuals who have been impacted by the Syrian crisis, but the breadth and intensity of the work has taken its toll on both staff and volunteers. In order to address some of these issues, TearFund hosted Relief and Disaster Training for LSESD's implementing partners. This was TearFund's second training in Lebanon since the onset of the Syrian crisis, and while the first targeted partners working with Syrian refugees in Lebanon, the second was designed primarily for those serving on the ground in Syria. The three-day training covered everything from international standards for humanitarian aid, to volunteer protection in areas of conflict. It was both an informative and refreshing time, especially for the staff and volunteers from Syria who were thankful for a brief respite from the conflict zone. It furthermore provided a safe location for the Syrian partners to connect, as the lines of military occupation have made both communication and coordination difficult.
Additionally, in collaboration with Open Doors, LSESD was able to host a counseling workshop earlier this month for the staff and volunteers of one of its major partners in the Bekaa Valley. This particular partner, a church of only 50 members, has been distributing food aid to more than 700 Syrian families for over a year now; in addition to providing medical, educational, and emotional support as well. The purpose of the workshop was to deal with the symptoms of physical and emotional fatigue, burnout, and secondary trauma that the workers are facing. Many of the staff and volunteers felt free to share openly about their experiences, and the feedback from the sessions was extremely positive.
Suzanne Lahoud / Relief & Development Division / LSESD / November 2013