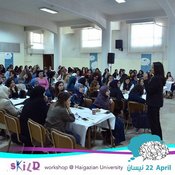 National Day workshop at Haigazian University
The National Day for Students with Learning Difficulties is a time of great joy for LSESD, when we celebrate our accomplishments so far. The level of public understanding of special needs issues has grown enormously thanks to the awareness and training events we have held with our partners over the last five years. The National Day is also a time for increased resolve. As our CEO Nabil Costa put it at the official launch event on April 22:"We have been talking
about inclusion for years, yet true integration of students with learning differences in Lebanon still eludes us."
To keep on furthering this mission, SKILD found new ways of attracting diverse audiences to our cause in 2018. A popular Christian gameshow, Jeel al-Injeel (The Gospel Generation), broadcast a special National Day edition featuring the SKILD team. As well as answering questions on the Bible, LSESD CEO Nabil Costa and SKILD Director Hiba Al Jamal were able to share stories about the challenges facing parents with special needs children and how SKILD's services are supporting many families.
This year we also used Facebook heavily to get our message across including a video campaign aimed at parents and live streaming of the official National Day event at Haigaizian University.
Sharing special needs expertise is an important component of every National Day, and this year SKILD put in many long hours to organize a wide range of training opportunities. They organized conferences and workshops for church leaders, as well as educators. We were blessed to have a team of professors from Biola University in the US and local experts leading seminars.
It wasn't just sitting around listening! Over 180 people, including two from our UK part-ner Embrace the Middle East, raised awareness of the National Day by taking part in a 5K run linked to the Beirut Wom-en's Marathon. The back of their yellow t-shirts summed up the progress the Nation-al Day has made, but the fact that there is still so much more to do: "Our finish line is inclusion."