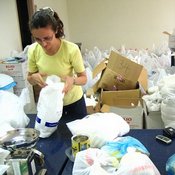 Relief packages for those displaced during the 2006 July War
A war lasting 34 days proved to be a pivotal moment in the history of LSESD.

On 12 July 2006, tension on Lebanon's southern border quickly escalated into something more serious. In days, Israeli bombs were falling across the country. Thousands of people were killed or injured and almost one third of the population displaced from their homes.
LSESD ministries sprang into action, providing shelter for hundreds of people at the Arab Baptist Theological Seminary (ABTS) and Beirut Baptist School (BBS). Supported by its partners, LSESD provided food and hygiene packages to over 1,500 displaced people, the first time in its history that it had provided aid.

"Though we were not a relief agency, we could not just stand by and watch our people suffer," said LSESD CEO Nabil Costa. "We realized our humanitarian and spiritual responsibilities towards our fellow Lebanese."

"Not being a relief organization ourselves, we didn't know how to approach the displaced families many of whom came from South Lebanon or the southern suburb of Beirut," noted an LSESD volunteer. "Yet the process was much easier than we thought. Caregivers and care-recipients bonded together and we realized that we were people of the same country with quite a few similar interests and concerns."

The needs of children and young people traumatized by the war also began to be met. Teams provided daily activities for children and young people at ABTS and BBS. This work developed into Baptist Children and Youth Ministry (BCYM).

A ceasefire on 14 August thankfully ended the fighting quickly. The conflict had interrupted LSESD's work, but had also changed it for ever.

"All of our plans and projects were put on hold," said Nabil. "Yet in the midst of it all, God put in our hearts a new vision, set before us new horizons, and opened wider doors for ministry."

ABTS President Elie Haddad, commenting at the time in an LSESD publication, said words that sound prophetic when you consider the Syrian conflict which began five years later.

"Our questions were answered right from the outset of the war," he said. "It became evident right away that God wanted to use these times for the next phase. God was leading us to break new grounds in ministry. Never before had our ministry been so practical, so holistic and so spiritual."